A letter from David Wainwright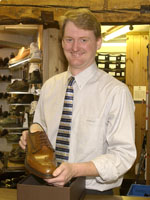 1st January 2015

Welcome to the Wainwright Shoe Shops Website. I hope that you enjoy your visit. We were established by my grandfather in 1919 and have been in the shoe retail and repair business for nearly 100 years. Ten members of the Wainwright family have been personally involved in the business over this time and now the task has fallen on my shoulders.
I would like to assure you that the high standard that my grandfather set back in 1919 is still maintained today. We take great pride in all that we do, and would like to think that the service you receive when you visit one of our shops is second to none, you are very important to us. We realise that our loyal customer base which we have built up over all these years of trading is our biggest asset. Satisfied customers always keep coming back and they usually recommend us to their friends too, which contributes largely to our success. It is not uncommon to have been serving several generations of the same family in our shops, so we would say many of our customers are our friends.
We have a wealth of experience invested in our staff who have on the whole remained with us for a long period of time, some have joined our business straight from school and remained with us ever since. This has meant that our staff have built up a great knowledge of the retail shoe trade. In this day and age of simply tapping away at a keyboard and items arriving through the post, we provide the environment in which you can try all the different types of footwear that we keep in stock. So rather than keeping your fingers crossed that something will fit when it arrives, you can be sure that you will go away with exactly what you want, and if we don't have exactly what you require on the shelf at the time we can always track it down for you very swiftly. All this is done with the Wainwright's service and smile!
We look forward to welcoming you when you next visit one of our shops.

David Wainwright

Managing Director
Wainwright Shoe Shops Limited