How it all started - Part 1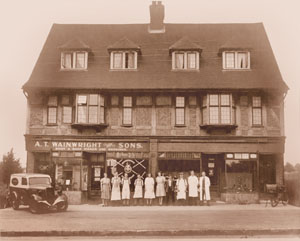 Albert Wainwright founded the business in 1919 and came to Princes Risborough in 1936 when the original shop used for repairing and making footwear was opened. If you know Princes Risborough this shop was in Summerleys Road, next door to where the Model Railway shop is today.
A few years on and in need of larger premises the business was moved just along the road. Again, for those of you who know Risborough this would have been where Unwins and Risborough Printers are today. Not only did the business move into the ground floor units but the family moved into the first floor living over the shop. It is this shop which is pictured above.
You will notice in the right hand corner of the picture one of the original bikes that was used by the sons to collect and deliver repairs to the surrounding villages. However by the time of this photograph the luxury of the motor vehicle had arrived saving a little bit of pedal power. The van pictures allowed shoe repairs to be fetched in from further distances helping the business to grow. You will also notice that at the time of the photograph the business had started to sell footwear as well as repair them. You should be able to make out the shoe displays in the right hand window.
Continued on Page 2